Poetry records how we interact with world: French poet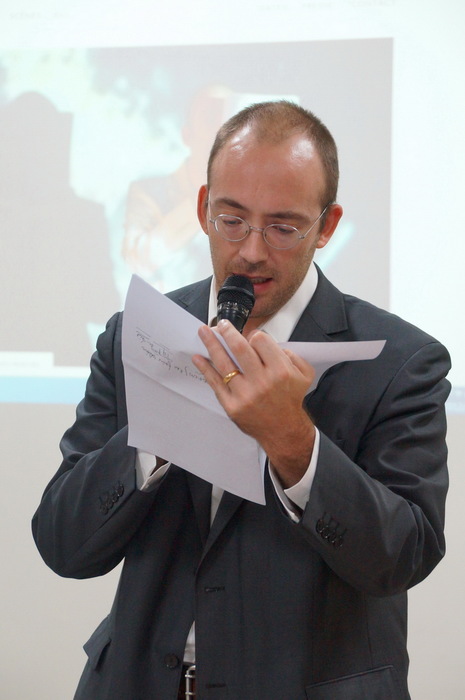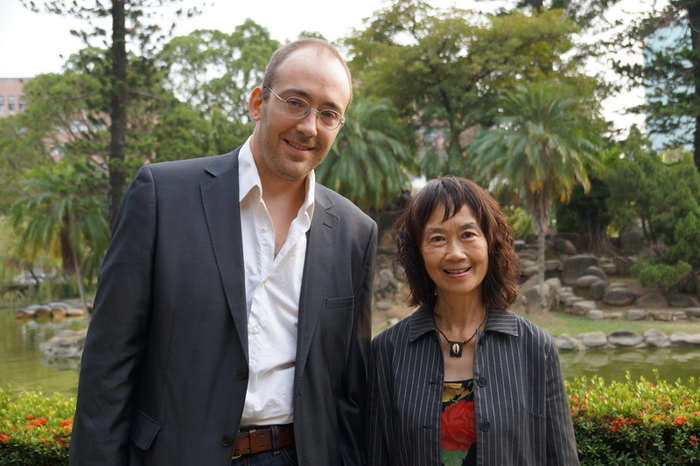 Tainan, Taiwan, 1 November 2012
Jérôme Game, a French poet and professor of the American University of Paris (AUP), gave a talk on Deleuze and poetry at National Cheng Kung University (NCKU), southern Taiwan, on Oct. 25, arousing the reflection on how to express the poetic thinking or feeling through a more contemporary philosophical perception.
Professor Game was invited by Man-Han Yung, a professor of Department of Chinese Literature at NCKU, to deliver a speech titled "Poetic Becomings: A Deleuzian Approach to Literature" and demonstrated a few of his visual poems to the NCKU Liberal Arts students.
When asked what poetry means to him, Game said, "Poetry is registering and recording the way in which we interact intensely with the world around us -- not only verbal, but also visual, and sound, and physical. And I don't think that it should be confined to the classical criteria."
To some, poetry must abide by the preconditions set by traditionalists, but Game's approach is unconventional. Game takes a one-of-a-kind approach because he incorporates his poetry with visuals.
Game is adept at writing poetry in English and French. He said, "I really like the translation which shows that one language is not on its own."
However, he noticed through his translations that certain words were not comparable. He decided to include audio to assist his cross-cultural audience's understanding of poetry.
Such an approach leads to images and videos combined with sequence shots. This concoction introduced a new framework of video art. The uses of camera motions, editing, and framing enables Game to direct his poetry in an unorthodox manner. This distinct style that he has created hasn't been practiced very often in the field of poetics, if at all.
Gilles Deleuze, an influential figure in philosophy, literature, cinema, and fine art, provided the groundwork for Game's research. Deleuze is also known for challenging many philosophers on subjectivity, saying that subjects are not coherent or fixed, rather they are moving or melting. This inspired Game to illuminate his own work with this striking viewpoint.
Game takes poems and studies them with Deleuze, and further examines how the subject is in fact broken and reconstructing itself in poetry, according to Professor Yung who is a renowned poet in Taiwan.
So the "becoming," according to Game, is the phenomena in which the subject is constantly in-between several states.
Poetry along with other arts often provokes bewildering or disputable feelings among spectators; however, the innovative expression found in Dr. Game's poems is introducing another dimension to the true meaning behind a poem, according to Professor Yung.
The form is unique indeed. Game says, "If we do only tradition, that would just repeat grammatical order and laws, which is a bit dispiriting in a sense."
Jerome Game's revolutionary style of poetry is indeed a great opportunity for young poets to explore other realms of literary arts. Likewise Game expressed his perspective of NCKU.
"I find NCKU extremely beautiful. I can see strong relationship to nature. You can see buildings and nature coexisting," said Game who also made a statement on how the NCKU dogs are a symbol of friendliness and welcoming.
Enditem/sc