The Future Begins Here – NCKU Vietnamese Alumni and PhD Student Share Study Life and Career Opportunities
Writing by NCKU Office of International Affairs; Editing by NCKU News Center
NCKU Overseas Hub in Vietnam hosted the "The Future Begins Here" webinar on September 17th to explore useful scholarship information, study experience in NCKU, internship projects and career opportunities in Taiwan and Vietnam through the personal testimonies of Vietnamese alumni and a PhD student as well as a detailed introduction by NCKU Office of International Affairs. Whereas the positive and active responses from online viewers reflects the attractiveness of study in NCKU and in Taiwan, the authentic stories mirror the deep connection between Taiwan and Vietnam in young talent cultivation.
Prof. Wang Hsiao-Wen, Vice President for International Affair, recommended in her opening remarks that Vietnamese students can enhance their interaction with the NCKU Overseas Hub in Vietnam to find admission opportunities and scholarship supports to study and research in NCKU. Dr. Minh Hien, an NCKU scholarship receiver and the current Director of NCKU Overseas Hub in Vietnam, presented the procedures and important steps for scholarship application to help students striving for scholarship from NCKU or Taiwan.
Dr. Pham Viet Cuong, Deputy Head of Dept. of Automatic Control, Ho Chi Minh City University of Technology, noted that the research facilities in NCKU, especially the classroom, laboratory and library, are equipped with rich resources and new technologies. He advised students to utilize the subsidies and resources of international conferences by Taiwan government to enrich the knowledge and expand the network with scientists around the world. Dr. Cuong noted that while English proficiency is still essential for academic study, basic Mandarin language ability is the key to communication with local people and making Taiwanese friends.
Ms. Truong Thanh De, Regional Director of Cathay Life Insurance in Ho Chi Minh City, said that she got her current job and good promotion thanks to the internship program in NCKU. And Mr. Wilson Shih, General Director of ONE-G Limited, emphasized that the solid network of global NCKU alumni is valuable resources and support to get investment partners, hobbyist grouping, and industrial knowledge exchange.
Ms. Vo Hoang Thuc Minh, a PhD student in the Department of Biomedical Engineering, talked about what difficulties new students may face during their study in Taiwan and how to overcome them. Language barriers can be minimized as NCKU will provide the freshmen with two free Mandarin language courses. The local student in the Buddy-Buddy Program and the Office of International Affairs offer great assistances when overseas students seek for help, she added.
NCKU has more than 2000 international students from over 68 countries, according to Prof. Li Yueh-Heng, Associate Vice President for International Affairs. He expressed that NCKU is located in the historical and cultural city of Tainan, which offers a convenient, comfortable and livable environment with relatively lower living cost for overseas study. NCKU has a large campus, 9 colleges, five-star library, public artworks, historic buildings, tree-shaded bikeways, and a variety of extra-curricular activities.
NCKU launched its overseas hub in Vietnam in 2017. With an original focus in cross-national joint scientific research projects supported by the University of Medicine and Pharmacy at Ho Chi Minh City (UMP), it was firstly named UMP-NCKU Joint Research Center. As a result of the stonger ties with local top universites and industries through time, the hub gradually broadened its missions to not only joint research, but also yong talent cultivation, international education and academia-industry cooperation. It is therefore named as NCKU Overseas Hub in Vietnam in 2020 for a clearer declaration of its multitask goals.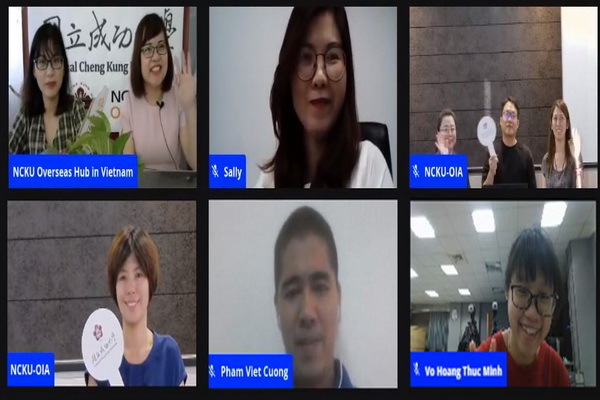 From above left: Ms. Ngan Ha and Dr. Minh Hien, Ms. Sally Truong Thanh De, Ms. Maxine Yang, Prof. Li Yueh-Heng, Ms. Celine Pai;
From bottom left: Prof. Wang Hsiao-Wen, Dr. Pham Viet Cuong, Ms. Vo Hoang Thuc Minh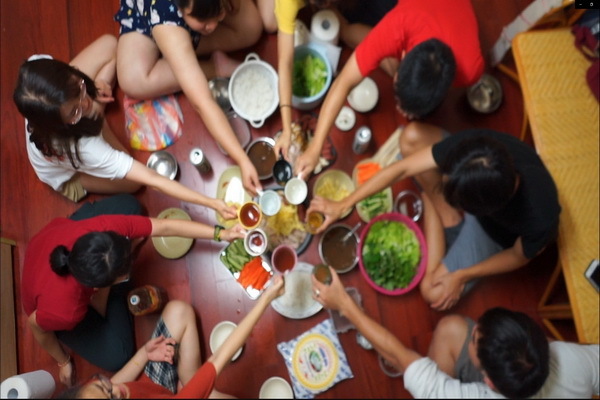 Ms. Vo Hoang Thuc Minh, a NCKU PhD student from Vietnam, shared about her life in Taiwan via video.