Department of Electrical Engineering presents Edison-Hopkinson dynamo to public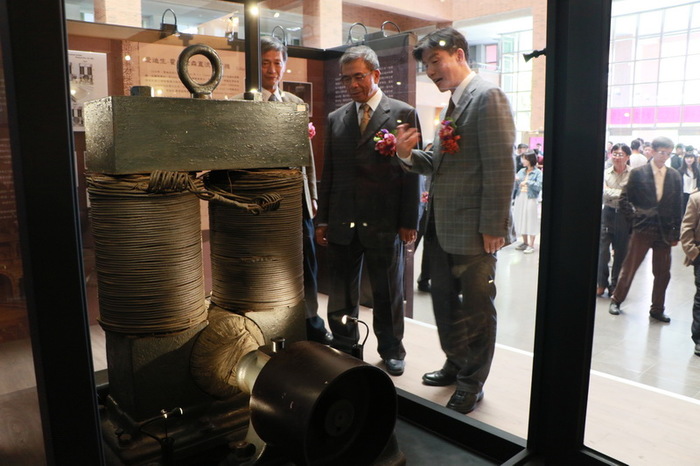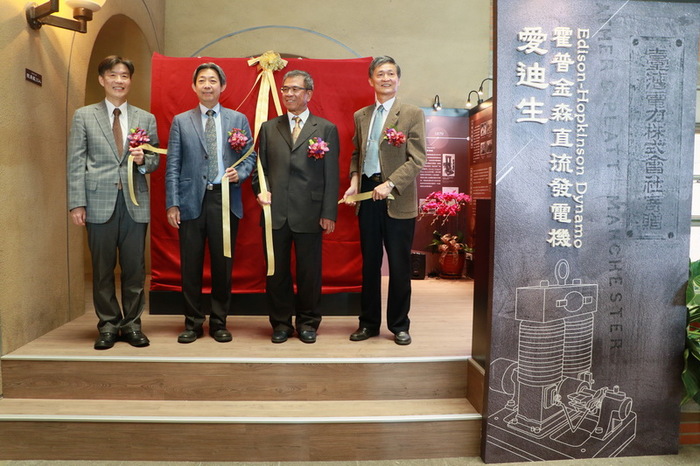 On April 17th the Department of Electrical Engineering held an opening for the permanent exhibition of its crown jewel: the Edison-Hopkinson dynamo. It is the oldest direct-current generator in Taiwan and only a few are left in the world.
Department Chair Hong-Tzer Yang indicated that the Edison-Hopkinson dynamo is a significant element in the development of modern electricity. The dynamo was produced between 1883 and 1885 and given to NCKU (originally the Tainan Technical College) by the Taiwan Power Company (known as Taiwan Power Co., Ltd. during the Japanese Colonial Era) in 1933 for educational and experimental purposes and stored in the Electrical Division Dynamo Lab. In 1997 a new building was constructed for the Department on the Tzu-Chang Campus and thus the 1.1- ton dynamo was then moved to the basement of the new building and has remained there ever since due to its heavy weight.
The Edison-Hopkinson dynamo was an improvement from its predecessor, the Edison dynamo. Edison received a patent for his dynamo in 1879 and in 1882 set up the first U.S. residential electric grid on Pearl Street in New York. In 1883 Edison granted the patent rights to the Mather & Platt Company in Manchester, England. Dr. John Hopkinson further improved it and revealed the Edison-Hopkinson dynamo in 1885.
The exhibition was unveiled by Vice-President Cheng-Hung Huang, College Dean Wei-Chou Hsu, Department Chair Hong-Tzer Yang, and President & CEO of Compal Electronics, Inc. Ray Chen. Vice-President Cheng-Hung Huang pointed out that the invention of the dynamo played a decisive role in the development of human civilization by taking people into the age of electricity. He thanked the Department of Electrical Engineering for preserving this historical artifact.
The Edison-Hopkinson dynamo stayed hidden from the public until the Department of Electrical Engineering and NCKU Museum's continued efforts plus alumnus Ray Chen's donation made this exhibition possible. To understand the history of electricity and electrical engineering in Taiwan, one must visit NCKU, the Department Chair stated. During the Japan Colonial Era, students and faculty members practiced electrical technology and contributed to the development of electricity, connecting power lines from the mountains to the sea. The display of the dynamo shines a light on its hidden past to the public. (End item:Franklin Guo)