NCKU's Overseas Study Program Funds Underprivileged Students for Learning Opportunities Abroad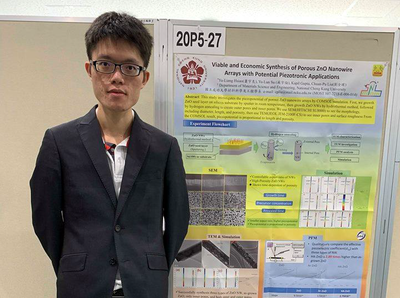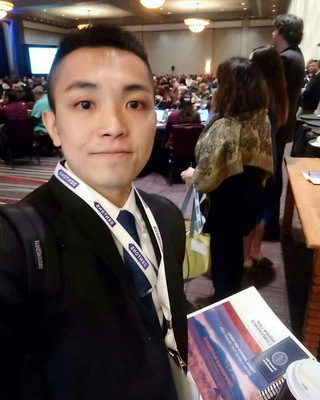 "This was my first time going to the US and my first time attending an international academic event. It was very unforgettable. Out of all the things that I gained from this trip to the US, the most significant were courage, a different perspective, and greater confidence about my direction for the future." Fourth-year law student Yu-En Xie admitted that had NCKU not give him this opportunity, he would never have been able to afford this trip. For him, this valuable experience would nurture his life and contribute to a greater driving force and progress in the future.
As the Chinese proverb goes, "Reading tens of thousands of books is not as good as traveling tens of thousands of miles." NCKU encourages students to engage in diverse learning, and in addition to "reading tens of thousands of books" for one's profession or interdisciplinary ventures, "traveling tens of thousands of miles" in the form of participation in academic events abroad and other related experiences is also a part of diverse learning. Considering the fact that students cannot choose their background and the educational philosophy that no student be left behind, NCKU launched the Overseas Study Program for Underprivileged Students in October, 2018 to fund short student trips abroad and help students expand their horizons and give them more hope for their future lives.
According to the Office of Academic Affairs at NCKU, 19 students were funded by the end of 2018, and an additional 37 students were funded by July, 2019. Thus, a total of 56 students have been funded so far to go abroad by themselves or with their teachers to take part in conferences (seminars and paper publishing), contests, workshops, and research abroad. The countries they went to include Japan, Singapore, Indonesia, the US, France, Italy, Poland, the UK, the Czech Republic, and Australia.
Vice president Ju-Ming Wang of the NCKU Office of Academic Affairs indicated that the broadened horizons, experiences of different cultures, and stimuli brought by going abroad early in one's life are all different types of learning. People who have been abroad as students will feel less tension and less stressed when they go abroad for further studies after they graduate and be more able to adapt to life abroad. "I was already 30 years old when I first left Taiwan, and I can still remember now the shock of realizing how big the world was!"
Ju-Ming Wang emphasized that NCKU encourages diverse learning and endeavors to create a good environment for diverse learning. Going abroad to take part in academic events is an extension of diverse learning. However, students who come from less affluent families have fewer chances to go abroad, and it is the University's responsibility to care for and properly guide each and every student.
In April, law student Yu-En Xie went to attend the 44th Annual Indian Law Conference in New Mexico by himself. Aside from the professional and academic benefits, the trip to the US brought out courage that he never knew he had before and also vastly expanded his horizons. Before his departure, he had planned his routes to his accommodations and to the conference venue. The street views showed barren desert almost everywhere, and there was not much public transportation. "I was really downhearted. I feared for my personal safety, and I was still thinking of going home when I got to the hotel. After the conference ended and I was on my way back to Taiwan, I forced myself to spend that last night in the airport, which was almost completely deserted, because I was afraid I wouldn't have enough money to get home."
With very few Asians attending the conference and almost every passerby giving him a second look, Yu-En Xie felt another wave of unease and sat on a sofa outside of the conference hall debating with himself whether to go in. Luckily, a lawyer named Lawrence R. Baca gave him an awakening: "If you're shy, why don't you go home?" At this, he plucked up the courage to go in. In addition, he voluntarily introduced himself to the lawyers and other law students at the conference, talked to them, exchanged opinions with them, and left them his contact information. "It was like some social switch in me was suddenly flipped."
The proactive attitudes and lack of stage fright in westerners also amazed Yu-Liang Hsiao. Microphones were set up in the aisles of the conference, and the attendees used them to ask questions one after another, even to the point that they had to wait in line to do so. Some attendees shared their opinions of the issue at hand. He also observed that people greeted each other on buses or in stores whether they knew each other or not, and this was something you did not see in Taiwan.
Yu-En Xie had already planned to get a job after he graduated and then pursue a higher degree in the US when he was 25. Having experienced the open, liberal, and proactive academic atmosphere in the US during this trip and gotten a glimpse of their local culture and customs, he is now even surer of his decision and dream to study law and study it in the US.
Postgraduate of materials science and engineering Yu-Liang Hsiao attended the 11th International Symposium on Advanced Plasma Science (ISPlasma) held by the Nagoya Institute of Technology in Japan in March. He confessed that it was his first time going abroad and that he was excited that he barely slept the night before.
Yu-Liang Hsiao explained that he saw many studies and reports made by outstanding researchers at ISPlasma. He gained a lot of inspiration, which greatly benefited him. An incident involving a Japanese student giving a report on stage also presented a cautionary tale. This student gave a very smooth and admirable report, but when professors off-stage began to ask questions, the Japanese student could not answer them and only smiled in response. It was unclear whether the Japanese student's English was in need of improvement or whether no consideration had been given beforehand to possible questions, which led to a lack of preparation and ability to improvise. For Yu-Liang Hsiao, this incident reminded him not only of the importance of English proficiency but also of the necessity to think of and prepare for the questions that the audience may have so as not to be put on the spot.
Regarding his impression of Japan, Yu-Liang Hsiao said that Taiwan and Japan are close to each other and that most people in Taiwan are not unfamiliar with Japan. However, experiencing it in person is a different matter and leaves a deeper impression. "The weather in Japan is cool, their scenery is beautiful, and they are very kind. It almost makes me want to move to Japan."