WUN General Manager Dr. Hasenmuller meets with NCKU Researchers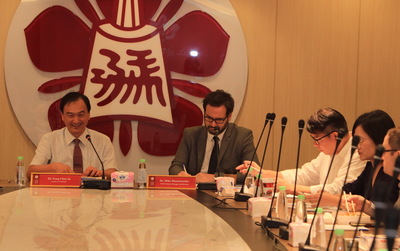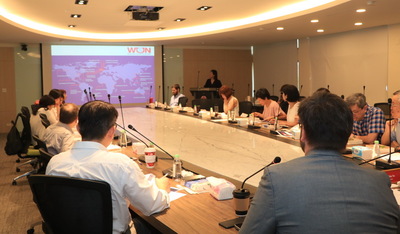 "The geographic and cultural diversity of WUN allows us to build distinctive constellations of talents!" WUN (Worldwide Universities Network) General Manager Dr. Mike Hasenmueller remarked in WUN RDF & RMP Meeting at NCKU on 4 October.
Dr. Mike Hasenmueller was invited to present WUN's recent development and call for projects for 2019 Research Development Fund and Research Mobility Program. The meeting started with NCKU Executive Vice President Dr. Fong-Chin Su's opening remark. 'WUN is a perfect platform for NCKU to connect and cooperate with global academic communities,' said Dr. Su.
Dr. Mike Hasenmueller indicated there are 23 member universities in 13 countries on 6 continents in WUN and NCKU is the only Taiwanese member in WUN. WUN focuses on four global challenges, which are public health, understanding cultures, responding to climate change, and global higher education and research. WUN now provides research development grants up to 380,000 NT Dollars and encourages researchers to propose projects coping with these challenges.
Dr. Mike Hasenmueller said, researchers who would like to gain the fund must propose projects that strengthen the collaborative linkages among member universities and engage at least three member universities in at least two countries in hope of enlarging the impact and global recognition of WUN.
Following Dr. Mike Hasenmueller's presentation, two students who have participated in the exchange program sponsored by WUN shared their experiences. Jim Li and Stefan Popesku, both from International Bachelor Degree on Energy, went to the University of Alberta for two weeks during summer vacation. Jim Li mentioned that, during the visit, he got acquainted with many students from different countries and exchanged ideas about energy issues with them. Thanks to this opportunity, he learned to look at issues from multiple perspectives. Stefan Popesku finds his passion in protecting the environment. He believes that we human beings can truly defeat global warming someday if we work closely together.
A number of NCKU researchers participated in the meeting, including Vice President for International Affairs Prof. Hsiao-Wen Wang, Associate Vice President for Research and Development Dr. Pei-Jung Lu, professor Su-lin Yu, the principal investigator of NCKU's first WUN RDF project, and other WUN delegates of the university. Questions concerned with student exchange programs and research collaborations were raised and discussed.
There are currently 700,893 students enrolling at WUN universities, 88 interdisciplinary groups, and 14 projects completed and retired during 2017-2018. Further information about WUN can be found on www.wun.ac.uk. (End item:Frecilia Lee)