AI-empowered Laryngectomee voice prosthesis wins the gold medal of "20th Lite-On Innovation Award" Cheng Kung University backed TSVOICE teamed with Southern Taiwan University of Science and Technology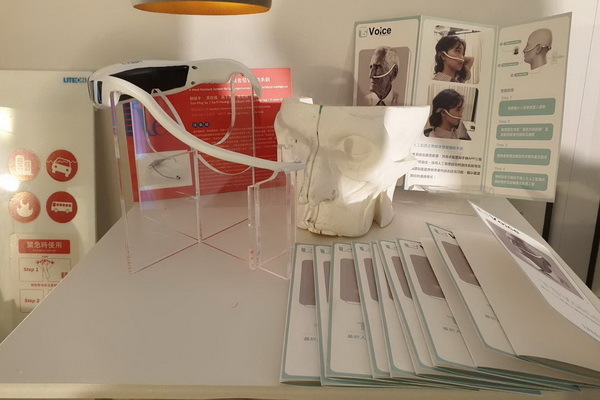 The TSVOICE team composed of Dr. Shu-Wei Tsai, a concurrent expert in the Department of Otorhinolaryngology and Medical Engineering of National Cheng Kung University Hospital, and several experts, after 2 years of counseling from the NCKU SPARK project supported by Ministry of Science and Technology, was the only Taiwanese team nominated in the DBS Social Enterprise Innovation Competition in Singapore.
This time, TSVOICE collaborated with professors from Southern Taiwan University of Science and Technology, Professor Wan-Jung Chang from the Department of Electronics and Professor Yang-Kun Ou from the Department of Creative Product Design. Jointly, they instructed students to optimize and integrate the past achievements into "Artificial Intelligence-based Voice Assist System for the Laryngectomee-Vobud", which was presented at the "20th Lite-On Innovation Award" and won the gold medal in the Technology Innovation Group.
This work is based on the original intention to "restore the voice and free the hands of the laryngectomee." It solves the shortcomings of traditional artificial larynx. It uses a specially designed acoustic wave to resonance in the human nasal cavity to produce mechanical speech. The translation of artificial intelligence technology, coupled with ergonomic engineering design, assists the laryngectomee to communicate in a hand-free manner, and frees their hands.
Dr. Shu-Wei Tsai said that the Lite-On Innovation Award is an international and highly competitive competition. The success in this competition is an affirmation of the school's medical equipment team. He expressed his appreciation for all parties in this cooperation, including computer science expert Ph.D. Heng-Chin Ye, artificial intelligence expert Engineer Tieh-Hung Chuang, Stanford University School of Medicine visiting scholar Ph.D. Yi-Hsin Chen, National Cheng Kung University Computer Science Professor Chung-Hsien Wu, Institute of Information Science Academia Sinica Research Fellow Hsin-Min Wang, National Cheng Kung University Department of Architecture Associate professor Yaw-Shyan Tsay, and Feng Chia University Master's Program of Electroacoustic Associate professor Yu-Cheng Liu. Together, they realized the innovative products of "Artificial Intelligence X Electroacoustic X Medical Engineering".
The team is currently conducting human clinical trials in the hospital of Stanford University in the United States, hoping to benefit more domestic and foreign patients.