Taiwan and Thailand co-organized International Webinar Series on Smart Healthcare Science and Technology to expand international cooperation with New Southbound nations
Writing by NCKU Medical Device Innovation Center; Editing by NCKU News Center
Fighting COVID-19 has brought severe challenges to the world. According to 2020 Deloitte report, biomedical industry will develop new technologies and working mode during the pandemic. Those improvements will drive industrial transformation and advancement. National Cheng Kung University (NCKU) and its Southeast Asia country partner, Mahidol University (MU), are dedicated to building bridges of cooperation and co-organized "International Webinar Series on Smart Healthcare Science and Technology." The opening ceremony and the first keynote speech was held on Prince Mahidol Day (September 24) in recognition of Prince Mahidol for his great contribution to modern medicine of Thailand. The webinar series aims to promote scientific research development of both Universities and to promote innovative smart healthcare solutions, hoping to inject new energy to ease the COVID-19 epidemic.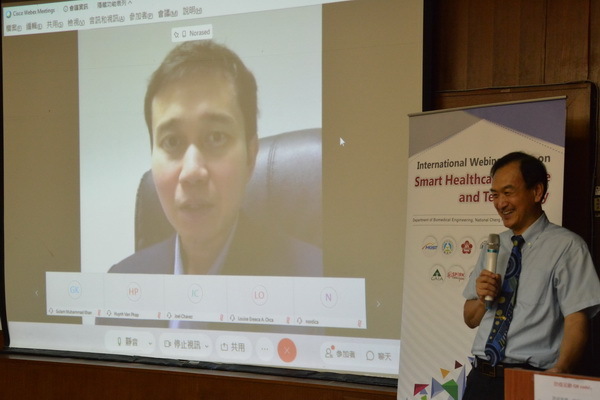 Dr. Fong-Chin Su hosted the international discussion panel
170 online and physical attendee participated in the webinar, including scholars, experts, and students of medical, biomedical, public health, clinical laboratory science, engineering, and economic backgrounds. The attendees joined the webinar from not only Taiwan, but also Thailand, Vietnam, Malaysia, Indonesia, Philippines, Myanmar, Nepal, and Bangladesh.
"NCKU and MU has recognized the critical role that technology would continue to play in our daily life. Both Universities have long been dedicated to integration of academic, technological, and industrial partner know-how to benefit our human well-being," said Dr. Huey-Jen Jenny Su, President of NCKU. Professor Banchong Mahaisavariya, M.D., President of Mahidol University, said "More than ever before, it is important we share our knowledge and expertise to build the capacity across the world and support one another, especially healthcare provision. It is inspiring to build new cooperation with our friends and partners around the world to support our community."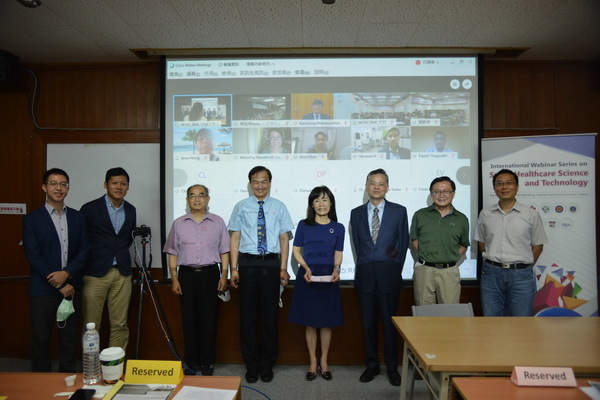 Group photo of Dr. Huey-Jen Jenny Su, Prof. Banchong Mahaisavariya, M.D., distinguished professors and online participants
NCKU and MU have co-established the joint research center as an oversea hub in Thailand in 2018, and the construction of its physical space was completed in 2019. NCKU executed MoST funded project "Taiwan Center for Smart Healthcare Science and Technology in Thailand," intending to connect the medical industrial key opinion leaders and co-operate on common targets to develop smart healthcare through the MU-NCKU Joint Research Center, supplementing New Southbound talents and developing medical innovative technology in accordance with important national policies. The final purpose is to build a commutation and collaboration platform in smart healthcare industry. Dr. Dar-Bin Shieh, Deputy Minister of Taiwan Ministry of Science and Technology (MoST) stated that Taiwan holds advantages in developing electronic manufacturing industry and favorable quality in medical care. Smart healthcare industry has become a new direction for the joint efforts of technology and medical science. It is believed that the experience can be promoted and shared to the new southbound countries through NCKU-MU joint research center, enhancing the bilateral technical exchanges and substantial partnership. Dr. Fong-Chin Su, Executive Vice President of NCKU and chairman of this project said, "Before the pandemic ends, we hope to use new ways of communication that we can continue and expand our collaboration with other countries."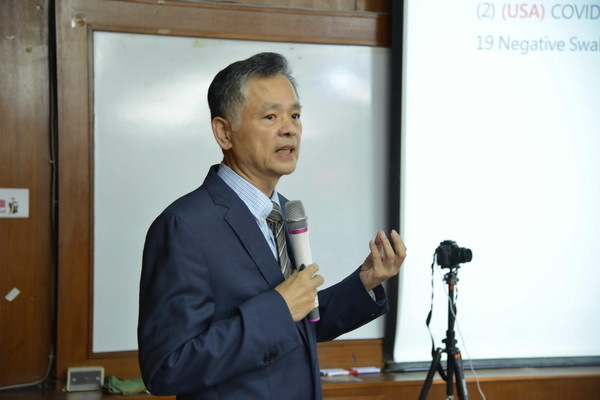 Dr. Junn-Der Liao introduced rapid screening techniques for COVID-19
The theme of the first webinar was "Innovation Inspired by COVID-19" for both Universities to present research and development on epidemic prevention. One of the distinguished keynote speaker, Dr. Junn-Der Liao from the Department of Materials Science and Engineering of NCKU, together with his team, were selected and funded by MoST for developing epidemic prevention technology. From the viewpoint of engineered applications, they combined nano- and micron-scale manufacturing technologies with spectroscopy information to design an innovative method, a non-nucleic acid or antibody screening method, and to detect virus through its envelope. Assistant Professor Che-Wei Lin from the Department of Biomedical Engineering of NCKU led his team to design a portable real-time screen device for respiratory tract infection using E-nose and artificial intelligence algorithms. Associate Professor Norased Nasongkla from Mahidol University introduced the polymeric drug delivery systems to track the distribution of drugs and treatment effects inside the body organs.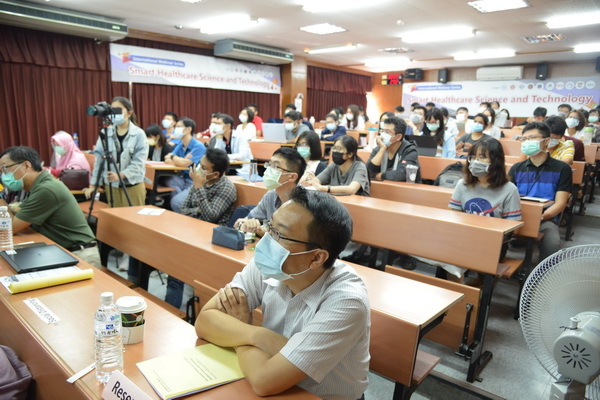 Taiwan professors and students participated physical seminar with online participants from Thailand and New Southbound nations
The International Webinar Series on Smart Healthcare Science and Technology is organized by Medical Device Innovation Center, as well as the Department of Biomedical Engineering of NCKU. The serial program will be held physically in Taiwan and online for international participants. Medical, academic, and industrial experts and leaders of smart healthcare related fields from Taiwan, Thailand, Singapore, and Japan will be invited as keynote speakers. The purpose of the webinar is to accelerate knowledge sharing and technology cooperation between Taiwan and Southeast Asia countries during the pandemic.