Crossing the Valley of Death: Opportunities for Medical Device Innovation forum webinar
Written by NCKU Overseas Hub in Malaysia; Editing by NCKU News Center
Innovation lies in the heart of academia, and universities generate high-quality, intellectual property on a large scale. However, commercial translation of this intellectual property has been poor, particularly in the medical device sector. It is critical to address this issue to ensure that innovation from research institutes can fulfil its potential and progresses to impact the society. The NCKU Overseas Hub in Malaysia hosted a forum webinar on October 1st, 2020, on the topic of "Crossing the Valley of Death: Opportunities for Medical Device Innovation" to tackle these issues with practical advice from the distinguished panellists.
This forum took a glance at the pipeline of innovation for medical device, the challenges frequently faced by the innovators, and the ways to translate the academic intellectuals into commercially viable products. In another words, this forum was exploring ways how researchers can safely cross the Valley of Death in medical device innovation.
The discussion was led by Associate Professor Dr. Ivy Chung, Vice Director of the NCKU Overseas Hub in Malaysia, from Universiti Malaya, and joined by Associate Professor Dr. Peng-Ting Chen from Department of Biomedical Engineering, National Cheng Kung University (NCKU), Miss Yong Chin Wen from Medical Device Department of Southern Taiwan Science Park (STSP), Kuala Lumpur, and Dr. Hyzan bin Mohd Yusof, the founder and chairman of OSA Technology Sdn. Bhd.
As a successful academic entrepreneur, Dr. Hyzan described the current research and development landscape of medical device innovation in Malaysia and his own journey of medical device innovation from idea conception to commercialization. Dr. Hyzan commented that research ecosystem in Malaysia has good innovative products, but it requires more support, especially in finances, to achieve the regulatory certification required to go beyond the prototype level into the commercial market. Dr. Hyzan also shared that the valley of death is a real setback to many good innovation and hence this should be overcome through strategy thinking and collaboration.
Miss Yong Chin Wen highlighted the role of STSP as a one stop service platform that covers the various aspects from subsidy, personnel training, linking resources, intellectual property, marketing and promotion. STSP collaborates with many Malaysian industries including Kuala Lumpur International Dental Clinic (IDC) to conduct trainings for professional dentists and dental students, local academic institutions such as Universiti Malaya (UM), Universiti Kebangsaan Malaysia (UKM), MAHSA University, and International Medical University (IMU) as well as with government and non-government organizations. She also shared that STSP welcomes engagement with all local industries who wish to explore developing their innovation with STSP ecosystem.
Being an entrepreneur herself, Associate Professor Dr. Peng-Ting Chen also emphasized the importance of understanding the market needs before completing any prototypes. "Researchers who wish to venture in medical device commercialization must go out from their comfort zone and talk to people from other disciplines. In addition, researchers must also identify and secure their financial resources. As medical device innovation is costly, researchers must identify their product's regulatory pathway, secure their intellectual property, and be ready with an investment strategy," added Associate Professor Dr. Peng-Ting Chen. She also shared about NCKU Biodesign which involves four stages clinical, technology, regulatory and entrepreneurial focus. NCKU's SPARK and Medical Device Innovation (MDI) programs which aim to cultivate talents in identifying the market needs and commercializing products.
At the end of the one-hour forum, Associate Professor Dr. Ivy Chung urged any key individuals, academic researchers or even regional researchers to work together to help the local industries. She added that this forum was just the beginning, and that there should be a continuation of the discussion based on the feedback and interests of audience. Any interested entrepreneurs or researchers who wish to learn more may contact NCKU Overseas Hub in Malaysia at malaysiahub@ncku.edu.tw or through @NCKUOHinMalaysia on Facebook.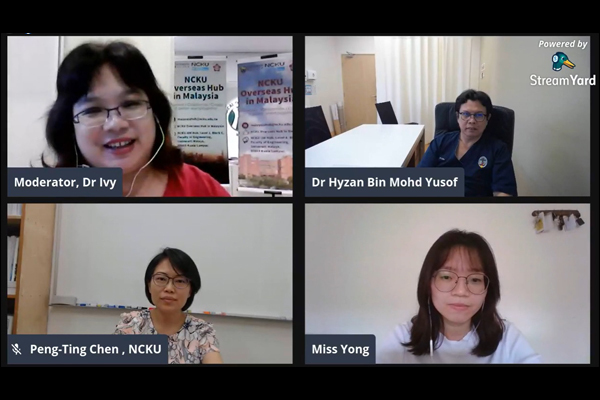 The panels concurred that having an interdisciplinary team throughout the medical device innovation journey is important.
From top left: Assoc. Prof. Dr. Ivy Chung, Dr. Hyzan bin Mohd. Yusof.
From bottom left: Assoc. Prof. Dr. Peng-Ting Chen, Miss Yong Chin Wen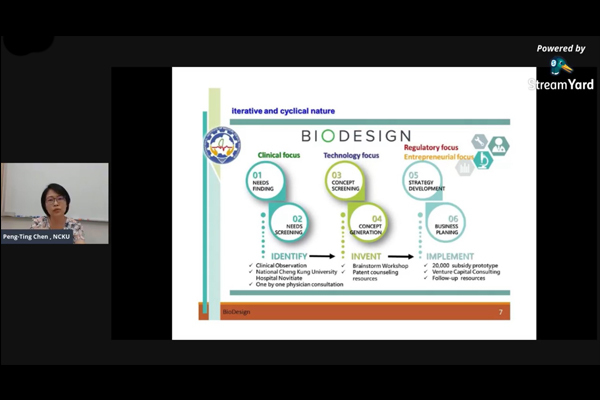 Assoc. Prof. Dr. Peng-Ting Chen explaining on NCKU's Biodesign program and welcoming interested parties to join this one-year training program.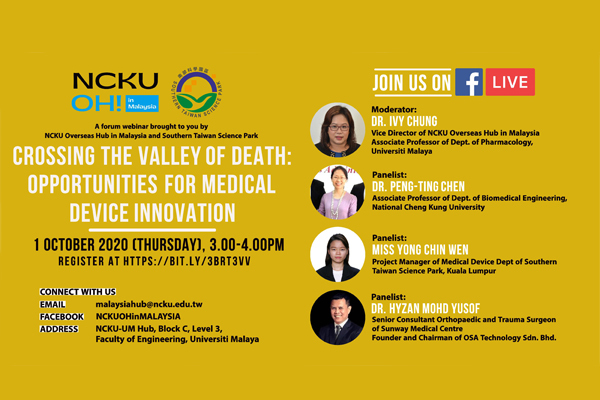 The forum webinar promotional flyer.